Yes, what I was *trying* to do was to skip a JMP that I picked out sort of randomly. I'm surprised that it worked as well as it did, and I really can't give any sort of logical technical explanation for it.
I used Mini vMac 3.5.8 and System 6.0.8.
I just happened to notice that when the illegal instruction at 00f80000 occurred, the value of A0 was 00F80000. Thus, I started looking for 'JMP (A0)' instructions in RAM and found this: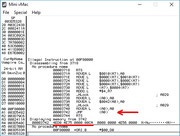 Then I looked for the hex data 4E D0 4E 75 00 00 00 CA in the disk image and took a shot in the dark and changed 4E D0 to 4E 75, i.e. JMP (A0) to RTS.
... but what was the purpose of all the code I might've skipped and why did the game crash in the emulator in the first place?
(I know a thing or two about 6502, but absolutely nothing about 68k).
Hey, user 24bit, that's great! You actually got the unpatched game running with vMac-0.1.9.5.DOS-Bin.zip .. !?
Maybe I should try that as well, even if the game appears to be running very well with my method, too. However, I still haven't managed to kill the vampire. I'm not sure if that's just because I haven't yet thought of the right command or if it's due to my version of the game being broken somehow.